Occupational first aid level 1 is a 8 hour course that is typically taught within one day.  Candidates will learn CPR, how to use a automated external defibrillator (AED) and basic first aid. Candidates will learn the priority action approach and obtain the knowledge and skills to confidently rescue and treat victims in the workplace.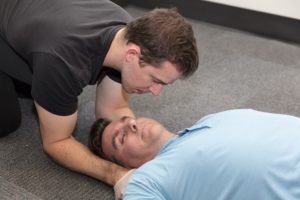 How to Register:
To register for a Occupational first aid level 1 course (OFA level 1) select the location of your choosing from the side menu or from the main menu. The city you select will direct you to another page to complete your selection and registration.
Pre-requisites:
Candidate must be at least 16 years of age.
Course Length:
The length of a OFA level 1 course is 8 hours.
Course Cost:
The cost of this course is 80 dollars. Course fee includes manual, certification fee and applicable taxes.
Course Curriculum:
Scene Assessment
Mechanisms of Injury
Victim Management
Primary Survey
Contacting EMS
Unconscious and unresponsive victims
Rolling a Patient
Recognizing and treating Wounds
Completing reports
Follow up care
Patient Transport
Burns (chemical and thermal)
Eye injuries
Choking victims
Airway Management
Cardiopulmonary Resuscitation (CPR)
Automated External Defibrillators (AED)
Shock
Asthma
Chest Pain
Stroke
Diabetes
Seizures
Fainting
Written Examination
Certification:
Upon successful completion of the course candidates will receive a occupational first aid certificate or a equivalent certificate such as a workplace emergency first aid certificate (Red Cross). Certificate is valid for 3 years. Re-certifications are not available for this course.